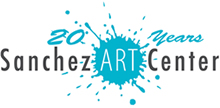 The Pacifica Center for the Arts is a multi-use complex made up of visual and performing arts organizations as well as individual artist studios.
Sanchez Art Center
---
MISSION
The mission of the Sanchez Art Center is to create community through art.
The art center provides exhibitions by emerging and established California artists; education and outreach programs designed to make art accessible to people of all ages and backgrounds; and affordable studio space for up to 30 Bay Area artists.
The art center has three exhibition spaces:
Main Gallery - exhibitions by established and emerging West Coast artists
West Wing Gallery - Art Guild of Pacifica exhibitions
East Wing Gallery - community and multicultural exhibitions by Bay Area organizations and children
Opening receptions are generally held from 7 to 9 p.m. on the first Friday of each exhibition. Galleries are staffed by volunteers and, during exhibitions, are open to the public on Friday, Saturday, and Sunday from 1 to 5 p.m (except opening Fridays). Admission is free. To schedule a different time, contact the office at 650-355-1894. Office hours are Tuesday, Wednesday, and Thursday from 1 to 5 p.m.
The Art Center is home to the Art Guild of Pacifica, whose 150-plus members volunteer for exhibitions, events, and gallery sitting, as well as serving on the center's committees and board.
The Sanchez Art Center is a non-profit organization (tax ID#94-3314658). Funding comes from grants, donations, art classes, art sales, and art studio rentals. We rely on the volunteer efforts of our studio artists, members of the Art Guild of Pacifica, and the community to help carry out our programs for the community.
HISTORY
In 1996, a group of artists, volunteers, and local residents, in cooperation with the City of Pacifica, leased an abandoned elementary school building that they subsequently converted into the Sanchez Art Center. In 1998, with a neighborhood grant from the Peninsula Community Foundation, a team of local artists, youth, and family members completed Pacifica's first large-scale mural, containing images that celebrate community spirit and commitment to diversity. In 2000, the Mary Harris Arts Education Room was established for art classes and summer art camps. We will be celebrating our 20th anniversary throughout 2017–2018.
---