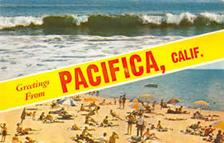 Call for Entries – Postcards to Pacifica (P2P) – Entry Deadline: Aug 20, 11 pm PDT – Click here to download prospectus
This project, supported by funding from the San Mateo County Arts Commission and a sponsorship from Pacific Coast Fog Fest "Gift to Pacifica" Fund, has the goal of connecting all of Pacifica's neighborhoods and creating community through art. Pacifica is a coastal town stretching six miles along the Pacific Ocean, with varied neighborhoods dissected by hills, valleys, and Highway 1. In a world where many don't know their neighbors, Sanchez Art Center will provide a positive, fun, safe, creative, and memorable way for people in the community to engage with each other.
Bay Area artists (ages 9 and up) are invited to submit original art that represents Pacifica's nine neighborhoods: Fairmont, Fairway, Linda Mar, Manor, Park Pacifica/Sun Valley, Pedro Point, Rockaway, Sharp Park, and Vallemar. Artists may enter up to 12 original 2-D artworks (except photography) based on any of the 9 neighborhoods listed in the call. Artists may enter (online only) at CallForEntry.org. Entry fees are $8.00 to enter the first artwork image, and $2.00 per additional image entered. The entry deadline is August 20, 11 pm Pacific Daylight Time.
Entries will be reviewed by Sanchez Art Center (SAC) staff, and $100 will be awarded to each of the nine selected artists. At least one award will be made to an artist 17 years or younger. SAC will then print the award-winning works in postcard format, and will distribute these at various community events through June 2020, asking community members to write on the card back what they love about their neighborhoods. SAC will share these Postcards to Pacifica at various events, online and on social media, and even through old-fashioned snail mail, bringing connection through the inspiring art and words of our neighbors. Click here to enter. For printed prospectus, click here.
2019 Fog Fest Photo Contest! Entry Deadline: Sept 15, 5 pm
Calling all photographers! It's time to get ready for the Fog Fest Photo Contest. The annual Pacific Coast Fog Fest takes place Sept 28–29, so get ready to share your photographic works. Awards will be given, and award winners will have a group show at Sanchez Art Center in 2020. Click here for the Entry Form and all the important details and requirements.