Entries for Sanchez Art Center juried shows are submitted online using the CallforEntry.org platform.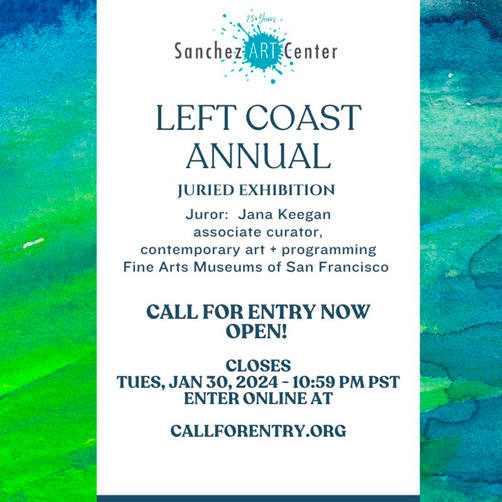 Calling all California, Oregon, Washington, Alaska, and Hawaii fine art visual artists! Sanchez Art Center invites you to enter the 2024 Left Coast Annual, juried by Janna Keegan, associate curator for contemporary art and programming at the Fine Arts Museums of San Francisco.
Exhibitions she has curated include Judy Dater: Only Human (2018), Steve Kahn: Hollywood Suites (2018), and David Hockney: Four Seasons (2019), and Hung Liu: Golden Gate (金門) (2021). Additionally Keegan recently assisted in organizing the exhibition Uncanny Valley: Being Human in the Age of AI (2020) and Judy Chicago: A Retrospective (2021).
Four juror awards will be given: two Exhibition Awards ($250 to each artist, plus an exhibition in 2025); and two Merit Awards ($250 to each artist). Submit up to 20 entries, including jpegs and up to 6 videos, by registering on CaFÉ™ (www.CallForEntry.org), where you can create your personal profile, upload images, and submit your entry. The entry fee is $15 per image/video. The entry deadline is 11 pm PST, January 30, 2024. For complete information and to enter, Click HERE .