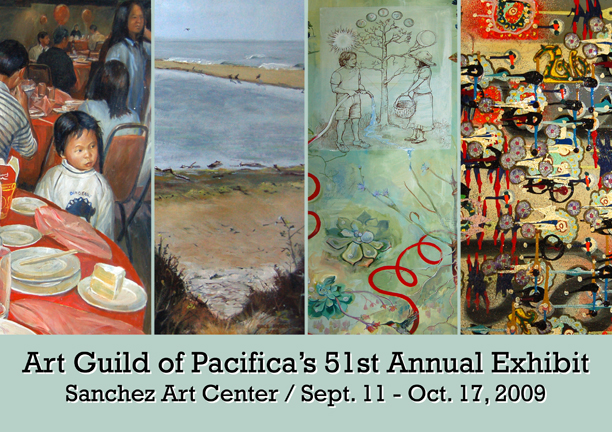 Once a year the now 51-year-old Art Guild of Pacifica holds its annual members show, always a treat for the eye and the heart. The depth and breadth of the members' commitment to the arts is on full display, and the shows just get better every year. This year's exhibition opens on Friday, September 11, with a reception for the artists from 7 to 9 p.m., graced by the musical talents of Vivace!
The Award of Excellence winners from the AGP 50th Annual, selected in 2008 by Jack Fischer of the Jack Fischer Gallery in San Francisco, will exhibit in the East Gallery. The artworks that received these awards are pictured above: (left to right) Wayne Jiang's mesmerizing acrylic, Sherman's Wedding; Gale Frances' serene oil triptych, Three Days at San Gregorio (detail); Elizabeth McClellan's magical multilayered acrylic, Backyard Alchemy; and Achziger's striking abstract, Twilight's Carnival, done in acrylic and glitter. The shows run through October 17.

Achziger of San Francisco grew up in Pacifica, where he was introduced to art by his neighbor, Betsy Day, a charter member of the Art Guild of Pacifica. He uses non-traditional combinations of oils, acrylics, and other mixed media to create abstract paintings that can capture anything from the fluidity of the ocean to the crush and excitement of a crowded carnival. Pacifica artist Gale Frances uses various mediums in genres that range from seascape to political satire. Her most recent work includes spoofs of public figures, both in and out of the art world, and clichéd maxims tweaked to amuse or confuse. Her images, including self-portraits, are often facetious or ironic. Wayne Jiang, also now of Pacifica, was born in Guangzhou China and came to the U.S. when he was 15. With a degree in illustration from San Jose State University, he has worked as a graphic designer and fine artist for the last decade, recently starting to paint full-time. He likes to create paintings that reflect on stillness, solitude, and mystery. Elizabeth McClellan of Pacifica practices a gestural, immediate painting style inspired by the effects of light on plants in the garden. She layers delicate colors and images to create paintings that are visually entertaining and quietly impactful. This will be a wonderful exhibition, with serenity, action, humor, and reflection - something for everyone.

The award winners in the 51st Annual will be selected by DeWitt Cheng, a well-known San Francisco artist, curator, and art writer. Cheng describes his challenge as an art writer in these words: "It is the art writer's job to try to understand the artist; to explain the work as readably and informatively as possible, and to make a case with the general public for the creative enterprise, which nowadays seems to be badly understood or completely misunderstood by most people, owing to poor national art education and the increasingly obscure and rarefied (not to say precious) nature of much contemporary art."