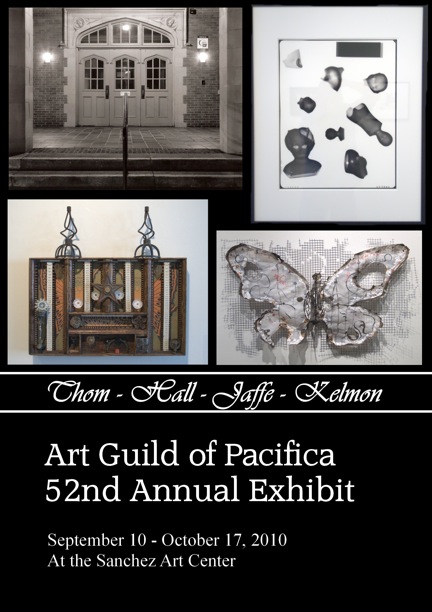 The amazing Art Guild of Pacifica has been presenting exhibitions by its artist members for fifty-two years, with no signs of stopping. What a gift to the community! This wonderful organization is entirely volunteer-based. It serves as a forum for local artists and holds several exhibits each year in the West Gallery of Sanchez Art Center. The 52nd Annual Members Exhibition opens Friday, September 10, with a reception from 7 to 9 pm, in both Main and West Galleries, with music by Vivace and the Jazz Cat Combo.
Concurrently, the 51st Annual Awards Exhibition will be presented in the East Gallery, featuring last year's award winners Nancy Hall, Tanya Lin Jaffe, Alice Kelmon, and Roger Thoms. These artists were selected for awards in 2009 by DeWitt Cheng, noted Bay Area artist and arts writer.
Nancy Hall, who is probably best known locally as a singer-songwriter and musician leader of the Curios, received an award for her intriguing mixed media construction entitled Aurora Borealis, complete with stars and wheels and butterfly wings.



Tanya Lin Jaffe is a studio artist at Sanchez Art Center whose innovative X-ray prints and holograms are favorites with local art lovers and have been shown at various venues in California. Jaffe's award-winning X-ray print is entitled San Francisco Archeology.



Alice Kelmon, who won an award in 2009 for her aptly named mixed media piece, Fragile, is a studio artist at Sanchez Art Center, where she also teaches printmaking. Her diverse works range from printmaking to watercolor to encaustic to mixed media.



Photographer Roger Thoms received an award for his silver gelatin print entitled 62, an evocative study of architectural-looking shapes.


The judge for the 52nd Annual Members Exhibition is Paul Bridenbaugh, art professor and gallery director at Skyline College. He will select four award recipients, who will receive both cash awards and a group exhibition in the East Gallery in 2011.
Both exhibits run through October 17. Sanchez Art Center is located at 1220 Linda Mar Blvd. in Pacifica, CA. The nonprofit center fulfills its mission to "create community through art" by providing free art exhibitions and lectures, an arts education program, and affordable artist studios. Galleries are staffed by volunteers and are open Friday, Saturday, and Sunday from 1 to 5 pm. The office is open Tuesday, Wednesday, and Thursday from 1 to 5 pm. For more information, call 650-355-1894 or email info@sanchezartcenter.org.